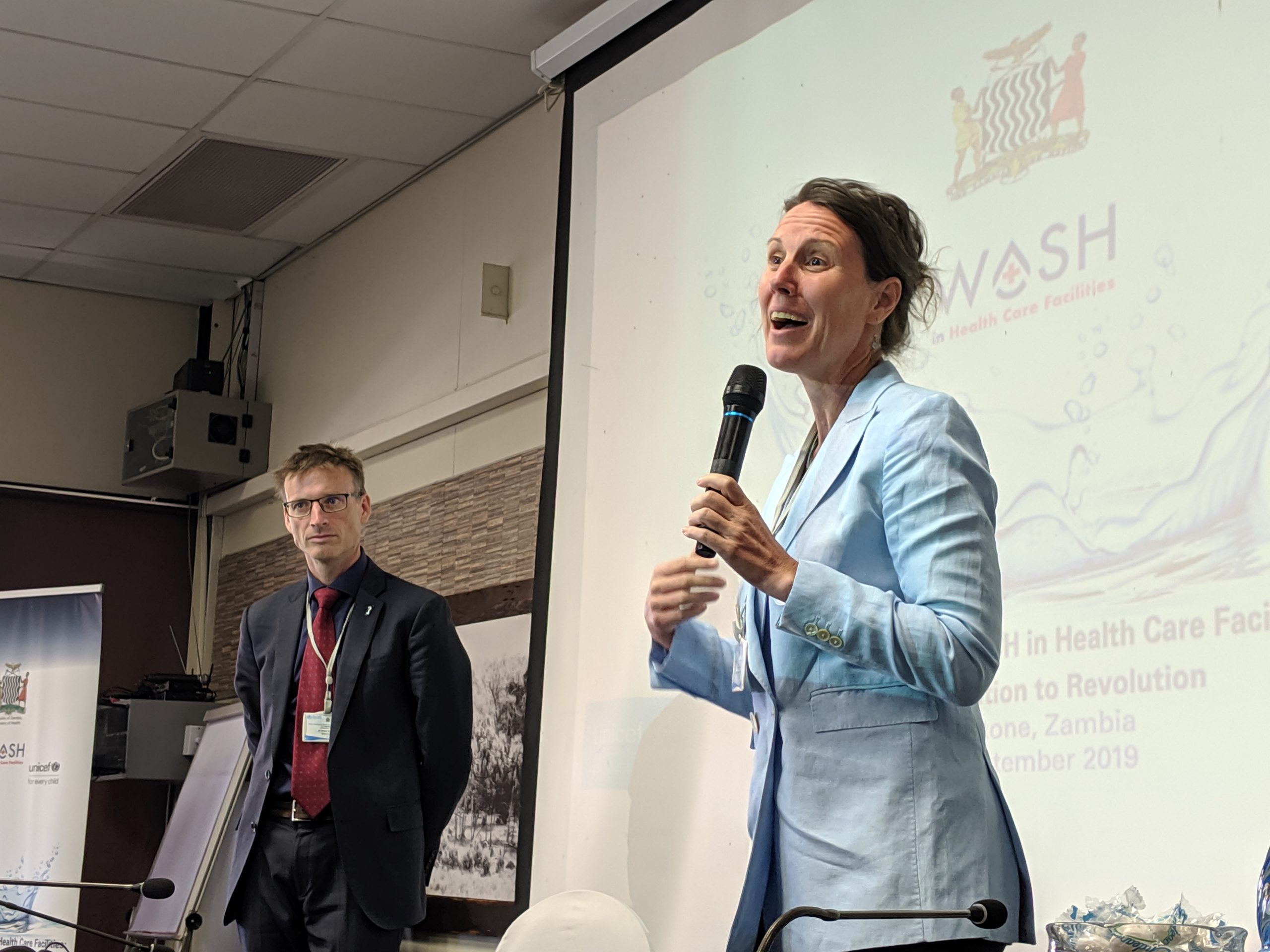 Nine takeaways from the Global Meeting on WASH in health care facilities
STORIES |
Global Water 2020
By Lindsay Denny, Global Water 2020 ldenny@globalwater2020.org
Earlier this month, the Global Meeting on WASH in Healthcare Facilities took place in Livingstone, Zambia. Following the unanimous approval of the World Health Assembly Resolution on WASH in Healthcare Facilities (WHA72.7), this meeting focused on building the technical capacity. Over 100 participants joined, including 25 country government representatives, as well as WHO and UNICEF staff from regional and country offices, and a handful of external partners. After a few weeks to digest the intensive three-day event, here are my key takeaways:
Countries came prepared to make commitments:

One of the two meeting objectives was to secure further commitments to WASH in healthcare facilities. Of the 25 countries in attendance, 18 Ministry of Health representatives (or their appointee) stood up to announce their progress to-date and critical next steps framed around the

8 Practical Steps.

For example, host government Zambia noted that they had already set targets and were in the process of developing standards and further defining the roadmap. The next key steps were to develop the health workforce, identify a coordination mechanism and allocate funds, including the incorporation of WASH for healthcare facilities into the national budget. The full list of country updates and commitments can be found under

Resources

.

"Resolution to Revolution" was more than just an event title:

The event's catchy theme was "Resolution to Revolution" and it was certainly apropos. I felt greater urgency, enthusiasm, and commitment to the cause than I have in the past — that fire in the belly that we need to meet our ambitious, but long overdue 2030 goal of 100% coverage. Kicking off with the

UN Secretary General's video statement

through to the closing statements for next steps, #ResolutiontoRevolution was the call to action. We should be working to build on that momentum and continue this revolution through and beyond 2020.

More health colleagues were in the room

: In the past, WASH in HCF meetings have been dominated by the WASH sector. While WASH was certainly well represented at this event, a much larger contingent of health partners were in attendance, particularly from Ministries of Health. We also welcomed participants from the midwifery and plumbing communities, faith-based organizations including Christian Health Associations, and health financing advocates, who brought diverse perspectives to the table.  

Participant engagement was high

: This was not a passive listening event. Over the three days, participants took advantage of numerous opportunities to share experiences, ask questions, and reflect on next steps. At the end of Day 2, UNICEF asked participants to gather with other representatives from their country to discuss the action plan to achieve the Practical Steps. Countries gathered around tables to hash out how to proceed.  

Learning laboratories coupled partner expertise with the 8 Practical Steps:

Partners like Save the Children and WaterAid developed "learning laboratories" to share guidance on actions ranging from situation analyses to costing and research. They were practical, interactive, and most importantly, they drew upon country experiences. In my session on Standards and Accountability Mechanisms, Tanzania and Ethiopia shared how they developed their own standards, while Ghana and WaterAid Malawi talked about accreditation and citizens' engagement as mechanisms for accountability. Country participants grilled the presenters and scribbled down notes. If anything, my one critique would be there wasn't enough time to fully delve into each topic. Outcomes from each of the learning laboratories will be available in October. 

There is a lot more WASH in HCF activity happening than I had realized

: Even for someone who spends a great deal of time talking about this issue, I was surprised by just how much activity is taking place. From the

regional level

down to the country and subnational levels, I was impressed to see activity in every part of the world.

Partners

too gave updates on their progress following the

commitments

made in June 2019. We often hear about the activities in Sub-Saharan Africa (where there is certainly need), but Central and South Asia were well represented. Unfortunately, few colleagues from Latin America were able to join due to visa issues. We'll look forw

The progress since the 2017 Kathmandu Meeting was evident: For those who participated in the Global Learning Event hosted by WHO and UNICEF in 2017, you'll remember an event framed around case studies from individual organizations. Some government officials attended, but they were not the focus. At the time, we were still getting our heads around what WASH in HCF looked like and deriving learnings from one another. This time around, the 8 Practical Steps shaped the discussion. With a road map in hand, scaled implementation and collective action were not vague ideas but achievable goals in the coming months and years.
There was still limited conversation around financing

: The Zambia meeting was a testament to how far we have come in the past year. But as the technical conversation has made significant progress, the finance discussion still lags behind. Several participants noted the importance of working with countries to ensure domestic resource mobilization for WASH in HCF, and multiple countries included budget allocation in their key priorities for action. However, future discussion

s on WASH in HCF will need to include more donor and financing partners. One of WHO and UNICEF's key objectives for 2020 is a WASH in HCF donor meeting. 

WHO and UNICEF left us with a robust list of next steps: The hosts closed the event with a
summary of their priority actions over the next two years. From regional meetings and an event at the next World Health Assembly to WASH FIT trainings and costed action plans, the momentum will continue to build into 2020. The list of next steps too includes an updated JMP report, an investment case, and an online course in 2020. And as WHO and UNICEF have made their list of actions, organizations like Global Water 2020 will continue to rally partners in the coming year — Viva la WASH in HCF Revolución!
Have your own takeaways or thoughts? Tweet your comments @WASH_FOR_HEALTH and use #R2RWASHinHCF to continue the discussion.